#1 Worldwide 'Poet | Artist': Kim Jonghyun
Jun Ko, Jan. 24, 2018, 3:20 p.m.
---
Jonghyun's posthumous album 'Poet | Artist' ranked first on the Worldwide iTunes Album Chart. The album was released by SM Entertainment on January 22nd where it received love from both domestic and international audiences. With all the love given, it topped both domestic and international music charts. Numerous fans congratulated the late artist for his hard work, fully appreciating the musical skill that was evident within each of his songs. With all the fans giving their love to the album, it serves to be helpful as all the proceeds will be going to his mother in order to help the underpriviliged.
Rest in peace, Jonghyun. We hope you know that your music has helped people in ways more than one.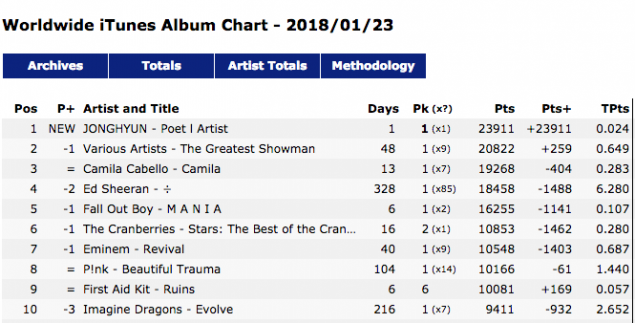 comments powered by

Disqus