BTS' V replies to a 9-year-old fan's letter with a letter of his own!
Jun Ko, May 14, 2018, 9:59 a.m.
---
A handwritten letter to BTS recently caught the attention of BTS fans; the letter was spread throughout the community and eventually caught the attention of the BTS member that it was addressed to! The letter was handwritten by a 9-year-old named Yoon Jihoo, who wanted to express their thanks and gratefulness to BTS' V: "To Taehyung hyung. Hello, I'm 9-year-old Yoon Jihoo. I'm hyung's fan. I like the other hyungs too, but I like you more. I don't have any friends. If people look at me, I become a dummy that can't talk. When I go to school, I play by myself in the hallway before going into the classroom. To the me who was like that, my mom introduced me to hyungs (BTS). I listen to your songs, watch 'Run BTS', and do your dances. I was no longer alone because I made a friend. Thank you for becoming my friend. I will write again later because my arm hurts now. Goodbye."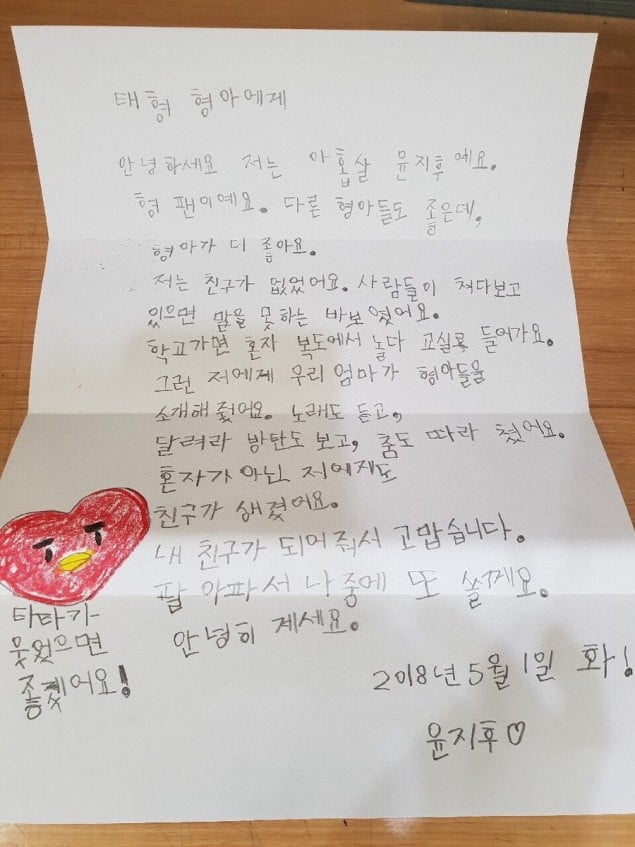 Upon seeing the letter, V had replied back with a letter of his own: "To Jihoo. Hi, Jihoo, it's V hyung. Thank you for liking Bangtan. Thank you for listening to hyungs' songs, watching 'Run BTS', and dancing along~ From now on, hyung is Jihoo's friend so don't get sick, live every day happily, and grow up quickly so that we can meet. I will also write again later because my arm hurts. Bye."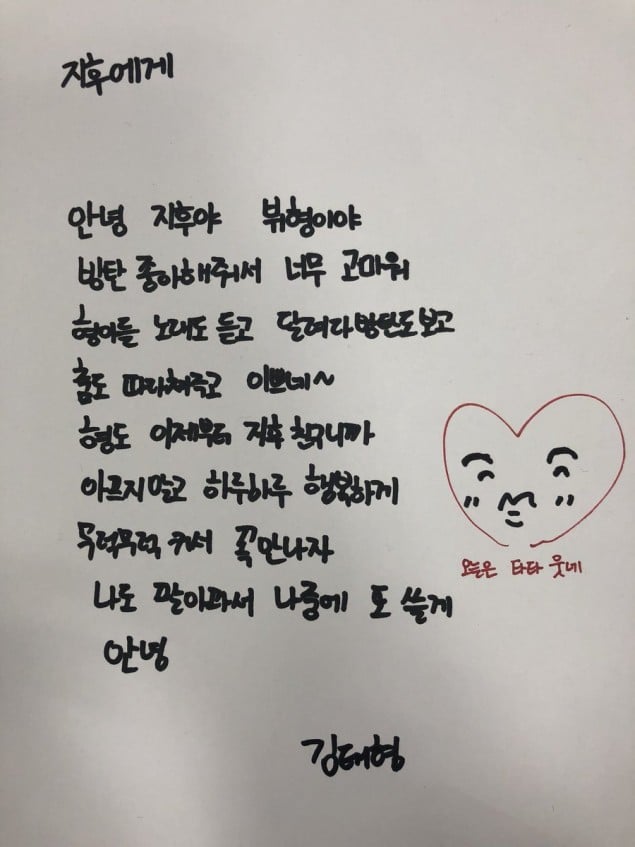 It was definitely a cute moment, especially with Jihoo drawing a picture of Tata from BT21 with 'I think it would be good if Tata smiles!' and V answering back with a picture of Tata smiling and 'Today Tata is smiling'.
comments powered by

Disqus