Chinese media outlets claim Fan Chengcheng has undergone cosmetic surgery
Jun Ko, Jan. 30, 2018, 2:23 p.m.
---
Fan Chengcheng has been getting several news articles written about him, various Chinese media outlets claiming that he has undergone cosmetic surgery. Chinese media has been wanting to get exclusive news on him, being the brother of Chinese actress Fan Bingbing and being a part of 'Idol Producer' (the Chinese version of Produce 101). The claims of him undergoing cosmetic surgery was due to the fact that he has been receiving a lot of attention for his good looks. The Chinese media were able to pull up a past picture of him and with a side-by-side comparison, the differences between the two photos become more apparent.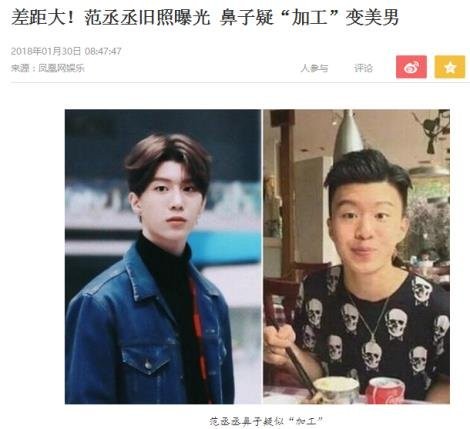 It was reported that, "In the past, he sported an average look without any double-eyelids and a flat nose. Though dressed in normal fashion attire, recent photos illustrated the rookie star with sharper facial features, especially his eyes, nose, and eyebrows, causing many to speculate if he had gotten cosmetic surgery done in Korea."
In regards to the news covering Fan Chengcheng's cosmetic surgery, many netizens have responded to leave him alone as he has free reign over his appearance and how ultimately, they have no say in what he does as it's his face.
comments powered by

Disqus