JYP Entertainment responds to the criticism of 'treating fans like an ATM' for 2PM's 10th anniversary event
Jun Ko, Aug. 23, 2018, 12:24 p.m.
---
JYP Entertainment recently received heavy criticism from fans due to their decision of using a lottery system for special events in 2PM's upcoming 10th anniversary exhibition '10 Seasons'. Their 10th anniversary exhibition is to take place from September 4th to September 23rd at 'The Seouliteum' with tickets costing 20,000 KRW (~18 USD) for official HOTTEST and 25,000 KRW (~22 USD) for non-official HOTTEST. Within the anniversary exhibition, there will be a series of special events for the fans (such as a 'Special Tour with 2PM' and a mini fanmeeting). However, the attendees for the special tour (limited to 30 attendees) and fanmeeting (limited to 50 attendees) was determined to be selected through a lottery; fans would be able to enter the lottery through purchasing MD and lottery tickets as well as partaking in events that require purchases.

This ended up a source of dissatisfaction for fans as there were several cases in the past where fans spent a lot of money to enter the raffle but still failed. Due to the likeliness of it happening again, several fans banded together and created the hashtag '#JYP_팬기만_이벤트_취소해' (#JYP_DeceivingFans_Cancel_Events). The description of the hashtag is as follows: "This hashtag is being trended in order to request the cancellation of the events that are only meant to bring in revenue for JYP Entertainment. They are cheating fans out of their money while refusing to listen to the fans' voices in regards to 2PM's 10th anniversary exhibition. We ask for JYP Entertainment's official feedback and the cancellation of the events."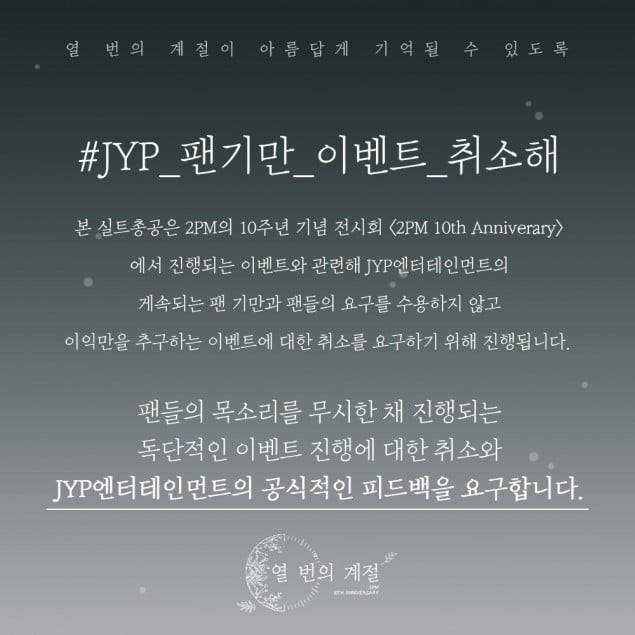 With the issue growing larger due to the fans' dissent, JYP Entertainment gave an official announcement: "We apologize for causing worry to fans; we didn't mean to have the fan events to be a cause of tension. We planned on releasing a secondary notice that contain the various details for the upcoming exhibition, which would also include several corners for fans to participate in. But we will be reevaluating the details and the contents, in order to bring fans a better event. A new announcement will be sent out as soon as possible. The upcoming exhibition will contain the theme of four seasons as well as being a large-scale exhibition full of video content and interactive art that reflect on the ten years of 2PM. We will do our best to ensure that everyone will have an enjoyable exhibition."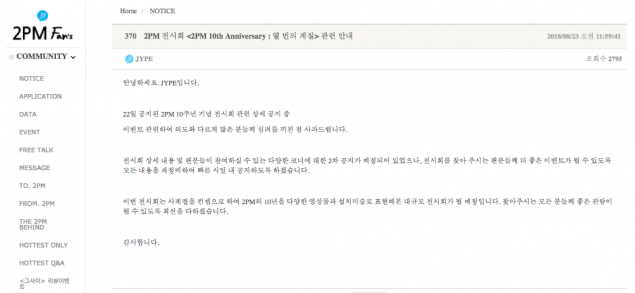 comments powered by

Disqus