[Writer's Choice] Korean styled LA Food Trucks
Samantha Diaz, March 30, 2018, 5:21 p.m.
---
Food makes anyone happy. But have you ever had food from a truck? Yup, a truck! Food trucks roam the Los Angeles area like loose puppies. At almost every block, there is a food truck. What's cool about them is that they combine traditional dishes from different countries to create delicious meals. Major outdoor events will have food trucks come and serve the crowd during the lunch rush hours. Sometimes the trucks park themselves in front of businesses so people grab a quick bite from them for their lunch. It is a staple of the LA culture.
Usually the food trucks get inspired by food from a certain country and they change it up by putting their own style on it. Korean food are popular amongst creative food truck entrepreneurs. The kimchi and bulgogi dishes are delicious and can be added to anything. Here is a list of food trucks to keep an eye out when you are in the Los Angeles area. As for the menu...you are just going to have to find out for yourself.
Kogi BBQ
TWITTER/IG: @kogibbq
Rice Balls of Fire
TWITTER/IG: @RiceBallsOfFire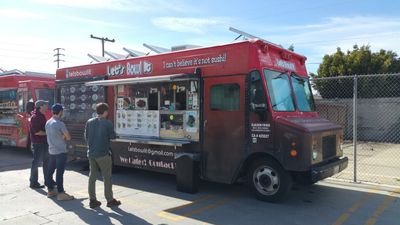 Let's Bowl It
TWITTER: @LetsBowlIt_LA
KimBobRex
TWITTER: @kimbobrex
Seoul Sausage Company
TWITTER: @SeoulSausage
Chef Kang's Food Truck
TWITTER: @khangchef
Slanging Corea
TWITTER/IG: @slangingcorea
Backpackers Truck
IG: @backpackerstruck
Yuna's Bob
TWITTER: @bob_yuna
IG: @yunas_bob
comments powered by

Disqus