[Writer's Choice] Tour of South Korea: Spring Festivals
Samantha Diaz, April 26, 2018, 2:42 p.m.
---
With thriving nature, calm beaches, and riveting cities, there are so much beautiful places to see in South Korea. However, have you ever heard of the festival that's celebrated in different parts of the country? Spring has the most charming festivals. Locals spend their free time preparing for their festivals so others can celebrate and enjoy with them. There are major festivities that take place throughout the year that travellers visit specifically to see. For this fun Tour of South Korea, we will be exploring the Spring Festivals held every year for the enjoyment of locals and tourists alike.
Cheongdo Provence Starlight Fairytale Town Lighting Festival
Celebrated with the people of Cheongdo, this festival puts on a show of a magical tale that can be enjoyed by children and adults. There are fairytale characters that walk around greeting kids, which allows their imagination to run wild. At night, the twinkling lights illuminate the walkways so couples can stroll through as if in a romantic movie. This festival lasts from January to June.
Herb Island Light Tunnel
In Gyeonggi-do, people can visit this bright celebration every day from November 2017 to October 2018. The surrounding buildings light up in different colors that shine over areas for those who want to feel magical with each picture they take. Throughout the weekend and national holidays, there will be performers that showcase their talents for all to see.
Everland Tulip Festival
As a spring tradition, the Everland theme park hosts a festival in honor of their blooming tulips. With more than a million flowers of a 100 different types, visitors can capture the blossoming tulips. The garden has elegant sculptures and straight paths that are covered in springtime flowers. Each night, the Musical Rose Garden lights up with a special performance for guests. This festival occurs every year from March to April.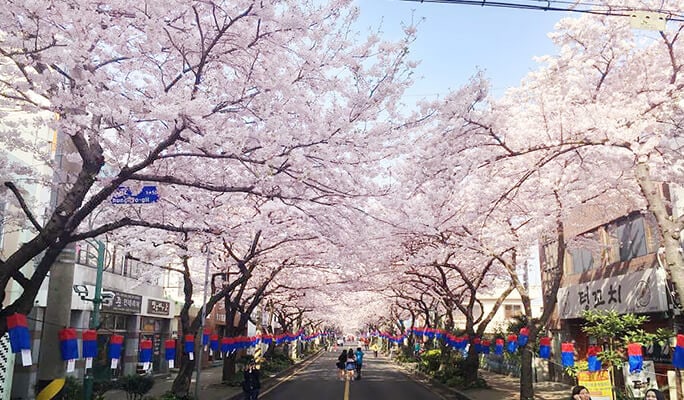 Jeju Cherry Blossom Festival
What better way to celebrate spring than to watch the cherry blossoms bloom. On Jeju Island, cherry blossom flowers cover the entire island in beautiful pastel colors. It is a fact that the petals are much larger on Jeju than any other place in Korea. The peak of the cherry blossom generally lasts about 2 or 3 days in March. However, the cherry blossoms stay until April.
Hampyeong Butterfly Festival
Anyone who loves the majestic fluttering of the butterflies can celebrate at the butterfly festival. The theme of the festival is to follow the butterflies through beautiful roads to Hampyeong. People can enjoy hands-on programs that encourage them to study the ecology as well as enjoy the walk through exhibitions where people can appreciate the flying beauties. Admission is free from April 27th to May 7th 2018 at the Heonsubyeon Park.
Nonsan Strawberry Festival
Want to have the best strawberries you had ever had? Visit Nonsan for their thriving strawberries! Mid-April is when the celebration happens for anyone who loves strawberries. People can grab the biggest baskets they can and pick as much strawberries as they can carry. Vendors even sell strawberry-themed food like pancakes, hot sauce, rice cakes, and more! This is when the prices for strawberries are at the lowest. Locals even put on a firework show that attracts people from throughout the area.
Daejeo Tomato Festival
Love tomatoes? Take a look at Daejeo's tomato festival where the best tomatoes grow. It is a celebration of the 60 years of cultivation that occurs in the soil of Nakdonggang River. This festival helps local farmers sell their product and celebrate their hard work. The unity of residents grow stronger and the visitors get to learn a lot from the locals as well.
comments powered by

Disqus